Green: Baseline with re-grind solid flat tappet cam and camel hump heads
Grey: Added a HR Cam
Blue: Added 200 CC Dart Pro 1 Platinum Heads
Pink: Added AFR 195 CC Eliminator StreetPort Heads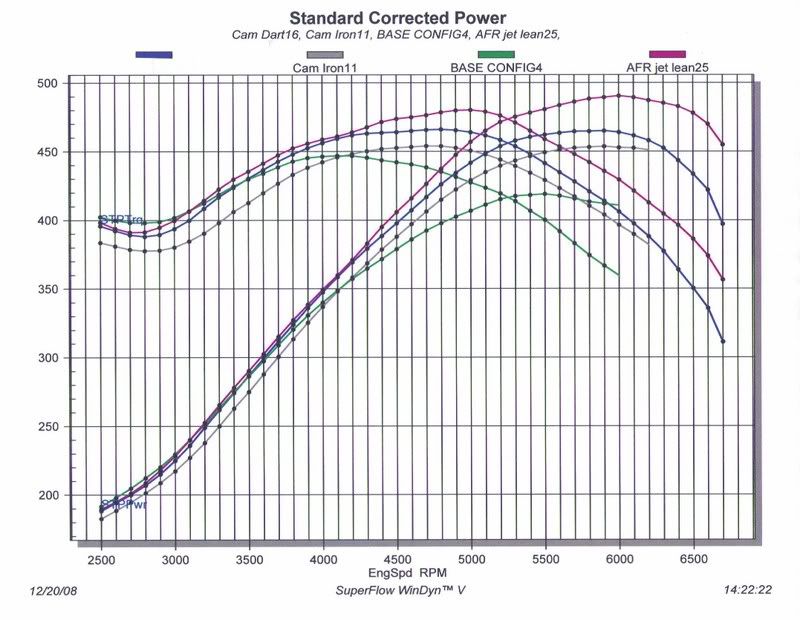 Here's what I'm seeing:
AFR Eliminator 195cc Streetport heads
490 hp @ 6000 rpm
480 tq @ 5000 rpm
Dart Pro 1 Platinum 200cc Heads
465 hp @ 5900 rpm
465 tq @ 4800 rpm
The power curves have the same shape, so I don't think anyone can argue the heads were mismatched to the application.
Nice that the heads made up for the low end losses of the larger cam.
The Base combo:
The Vettes original, numbers-matching 1962 327/300 HP block
Bore is 4.040"
3.85" stroke crank, internally balanced
6.00" Manley SJ Rods
22 CC Forged, Ross Dished pistons
Off the shelf Comp 282 Retro-fit HR Cam, ground on a 112* LS
Morel Retro fit HR Lifters
Comp Gold 1.6 ratio roller rockers
Weiand Team G intake, opened up to a 1206 gasket
750 CFM Carb
1 3/4" X 3" dyno headers, 18" X 3" collector extension
The Camel Hump heads have been cut for 2.02/1.6" valves plus some minor port work